At Bonditex, we work with a futuristic vision, integrally producing sustainable textile finishes with high added value.
Our years of experience have helped us to accumulate extensive know-how, which, together with a constant desire to innovate, allows us to find creative solutions that we implement in projects for top-level brands.
KNOW HOW
We have extensive experience from years of development in technical textile finishing./p>
ENVIRONMENTALLY MINDED
We look after the environment in all our processes
HUMAN TEAM
One of the keys to our work is an involved and expert team.
SPECIALISED MACHINERY
We have a wide range of machinery adapted to all processes.
QUALITY SOLUTIONS
All our efforts are geared towards providing high quality solutions.
Continuous investment in R&D and the incorporation of the latest technologies
At Bonditex, we work to offer innovative technical solutions in bonding, laminating, coating and finishing on all types of fabrics, with constant investment in research and production technology.
Please enjoy the blog content related to our technological, professional and human vision on the applications and uses of textile finishes.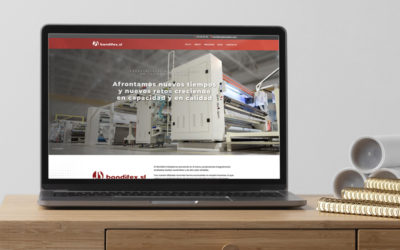 New times, new challenges – this is the work philosophy we have at Bonditex as we face a future that is already our present. We present our new website as a meeting point with current and future customers with the aim of providing quality solutions as a result of...
read more
Please get in touch to request more information, clarify doubts, or check other availabilities. We'll be happy to help. Leave us your details and we'll contact you as soon as possible.
C/ Joaquim Ruyra, 10
Ctra. C-35 Km 71,20
17452 Massanes
Tel. 972 86 56 96
Fax 972 86 56 95
info@bonditex.com